My career
I was born in Barcelona, 1957, studied Economics in the University... but what actually counts for my job is my Official Coach tittle and my really large experience:) more than 20 years of training sailors, 3 of them as the 29er Spanish National Coach. I have also been many times the Optimist Spanish Team coach in international regattas and I have organized or taken part in lots of clinics and trainings with sailors from many different countries: Germany, Sweden, Norway, Netherland, Italy, Poland, Russia, Great Britain, etc.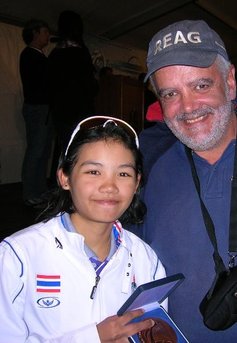 I worked in boat preparation for some Olympic sailors and also took part in the design of the N1 Foils for Optimist. I was part of the 29er XX tuning guide team, which was an Olympic candidate class for the 2016 Games.
vvddddddddvvvvv jjjjjjjjjjjjjjjjjjjjjjjjjjjjjjjjjjjjjj Noppakao Poonpat, World Champion
Besides I am the author of the "Tips'n'Tricks" for JSail, its tuning guide (which actually is also good for any Optimist sail brand), and I published many sailing technical articles in different magazines (find it in the site menu).
I also organize events, some of them were the Velanium International Trophy, the 29er Eurocup #1, the 2010 29er and 29erXX European Championships, the 2011 29erXX European Championships and the 2009 29er Spanish Nationals.
Some of the sailors I worked with are Carla and Marta Munté (ESP), 2014 29er World Champions; Maia and Ragna Agerup (NOR), 2013 29er World Champions; my own daughter Adriana, Bronze Medal in the ISAF Team Racing Worlds, J80 European Champion and 6 times National Champion; Florian Trittel (ESP) 2012 winner of the Worlds, Eurocup and European Champion; Nopakao Poonpat (THA), 2010 Optimist World Champion; Muri Schröder and Lea Einbrodt, 3rd in the 2014 29er European Championships.
Ragna and Maia Agerup, 2013 29er World Championst
higher'n'faster!